Wednesday Feb 24, 2021
063 Nomandland, Dome Lights, Advanture Magazine, Ravens Grin Inn, Hand Power, Vapor Barriers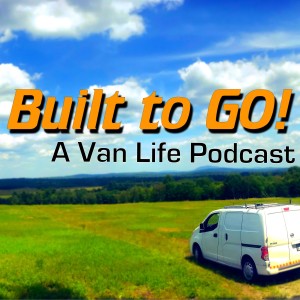 Nomadland! It's the movie everyone is talking about, but a few folks don't understand. We'll try to explain why reactions are so polarized. We'll also visit the Raven's Grin Inn, browse through Advanture Magazine, move a dome light, discuss vapor barriers and try a hand generator. Plus a shocking tale from the road! All in about 30 minutes! Whew! 

And we've launched our YouTube Channel! Built to GO! A Vanlife Channel is live.
What to see Jeff's NV200? Here it is!
Still from Nomadland (Custer State Park, SD.)
A Place to Visit - Raven's Grin Inn

One of the craziest haunted fun house experiences you can have in the US. 

Resource Recommendation - Advanture Magazine

Free, online #vanlife magazine catering to adventure rigs.
European-based, also has a print version available!
Instagram: @advanturemagazine



Product Review - Shikha Hand Crank Generator
Some links are affiliate links, and the podcast host will receive a payment if you order from them. Anything provided by a manufacturer for review will be fully disclosed. All reviews are the opinion of the podcast host.
Comments (1)
To leave or reply to comments, please download free Podbean or