Wednesday May 05, 2021
073 AAA Trouble, Bob Wells, Doggo Driver, Battery Review, Illinois Locks, Vinegar Wash?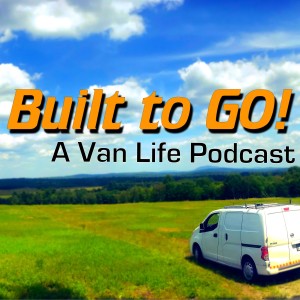 Have AAA? What if when you call they say "NO." It can happen. We'll also take a look at vinegar and what it is and isn't good for, recommend you check out Bob Wells, get stared down by a doggo, have a a first look at cheap "solar generators," and see how locks work. Not that kind!
We now have a Discord Server! What's that? It's a place to share and ask questions with the host of Built to GO and other listeners. It's a new community, so it will take some time to get to size, but you can be part of that! This link will take you to a video that explains the concept. Join us!
New Videos!

The Aurora Project Vlog # 1: https://www.youtube.com/watch?v=4ZnlPYaUquo
The Aurora Project Intro & FAQ: https://www.youtube.com/watch?v=lWhS_wox6s0
A Place to Visit - Illinois Waterways Visitors Center

Watch how massive locks work on the Illinois River.

Product Review - Wakyme and Awanfi Power Stations

I haven't done full testing yet, but the Awanfi seems to be the winner for size and price, though they're only $25 apart. Wakyme has USB C. 
Pricing fluctuates almost daily - watch for a good deal.
Wakyme 500 https://amzn.to/3b6Gr4m
Awanfi 500 https://amzn.to/3eYEIze

Resource Recommendation - Bob Wells & Cheap RV Living

If you're considering #vanlife, especially on the smaller scale of things, this is a must.
Bob's charity: Homes on Wheels Alliance
Some links are affiliate links. If you purchase anything from these links, the show will receive a small fee. This will not impact your price in anyway. 
Comments (1)
To leave or reply to comments, please download free Podbean or