Wednesday May 12, 2021
074 Solar Generators, El Crater, Butane Safety, Vinyl Floors, Leveling, Texas Alien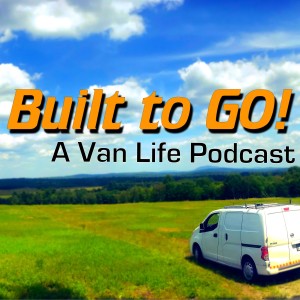 "Solar Generators" are coming down in price, but should you use one? We'll give you the pros and cons. We'll also take a look at a new safer butane canister, have lunch at an active volcano, learn how to level our vans, and share our disappointment with peel & stick flooring. 
We now have a Discord Server! What's that? It's a place to share and ask questions with the host of Built to GO and other listeners. It's a new community, so it will take some time to get to size, but you can be part of that! This link will take you to a video that explains the concept. Join us!
New Video!
The Aurora Project: Kentucky Black Only Park, Rocket Ship Bridge Crash, Music Hall, Hitching Post: https://www.youtube.com/watch?v=XnLBHq63tZo
A Place to Visit - Hotel El Crater

Lunch on the side of an active volcano? Yes, please.

Product Review - Peel and Stick Vinyl

In short, not a great option. While cheap and replaceable, they move with temperature changes and crack if the floor isn't completely firm. 

Resource Recommendation - GasBuddy

Check for the best gas price near you.

Tech Talk - Butane Canister Safety

Some links are affiliate links. If you purchase anything from these links, the show will receive a small fee. This will not impact your price in anyway. 
Comments (1)
To leave or reply to comments, please download free Podbean or