Wednesday May 19, 2021
075 Free Vanlife Activities, Drain Traps, Cliff Walk, Custom Wood, Art-O-Mat, Military Surplus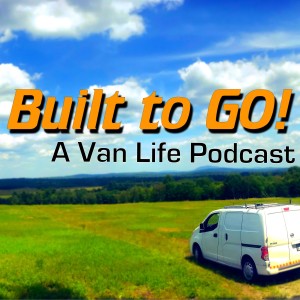 Vanlife isn't free, but you can do a bunch of amazing things for no cost. We give you 10 ideas. We'll also explore drain traps, hear a tale from Wales about a cliff walk, review Bidlacks Bowls and More, learn about the amazing Art-O-Mat, and look at an online resource for military surplus. 
Visit our Discord Server! What's that? It's a place to share and ask questions with the host of Built to GO and other listeners. It's a new community, so it will take some time to get to size, but you can be part of that! This link will take you to a video that explains the concept. Join us!
New Video!
The Aurora Project: Texas Confederate Graves, Alien Crash, Area 114, Political Signs. https://youtu.be/4AlgxyTW4Tg
A Place to Visit - Art-O-Mat

These repurposed vending machines now dispense art!
You can find them all over.
Product Review - Bidlacks Bowls & More (on Etsy)

Hal is a man of many talents, and now you can experience one of them with your very owned, custom carved and printed, wooden object.
Bowls, cutting boards, French rolling pins, Ulus...
Visit his Etsy store: https://www.etsy.com/shop/BidlacksBowlsandMore 
Resource Recommendation - Military Surplus

Sometimes things made for war are just the thing you need for peace.

Tech Talk - P and S Traps
Some links are affiliate links. If you purchase anything from these links, the show will receive a small fee. This will not impact your price in anyway. 
Comments (1)
To leave or reply to comments, please download free Podbean or